JiNa OCR is the best windows tool to convert any scanned PDF file into editable file. JiNa OCR support both PDF and Image format as PDF, JPG, PNG, BMP, GIF, and TIFF, no need to retype or reformat your document. With Jina OCR you will be able to convert PDF or image into many editable format as Word, Excel and Text.
JiNa OCR is the fastest and most precise way to convert paper, PDF files, and even digital camera pictures into documents you can edit in your favorite PC applications like microsoft word.
With JiNa OCR you can upload many PDF files and convert them in one click, and if your PDF file contains more than one page, you can choose the page you want to be converted, or simply convert the whole PDF document.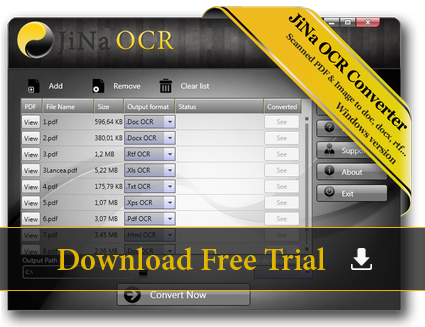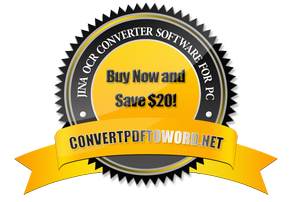 Buy Now $49.95 $39.95 Watch a video demo Download Free Trial